IDEC brought some of the first micro-Programmable Logic Controllers to the market, and has been meeting your changing control automation needs for decades. Our controllers meet the highest standards for safety, flexibility and value. Whether it is system flexibility, space saving, ease of maintenance or powerful programming features, IDEC's programmable logic controllers along with exceptional product support will exceed your expectations.
Next Generation IDEC MicroSmart FC6A Plus PLC Stretches Performance Beyond Micro PLC Limits!

• basic instruction at a speed of 21 nanoseconds
• 800 kB program memory
• Up to 63 I/0 expansion modules van be added
• Max. 511 analog I/O
• FTP client or server possibilities
• 2 build in RJ45 Ethernet ports
• Up to 33 RS232C/RS485 serial ports are supported
• BACnet communication (mid-2018)
• E-mail

•

and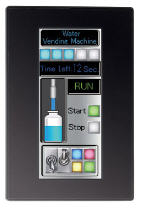 Key Features
•3.8" HMI+PLC
•Models with 12 or 14 I/O
•Embedded RJ45 Ethernet Port
•Modbus TCP or RTU
•Built-in 2 analog inputs
•Built-in 2 analog outputs
•Optional Analog Cartridges
•PID Controls
•USB Maintenance Port
•Seamless interface with other PLCs
•Class 1 Div. 2 Hazardous Locations
•-20 to 55 degree C operating temp.
•IP66f, Nema 4X (indoor), 13